ABOUT OTTAWA HOT AIR
Ottawa Hot Air is based in Ottawa, Ontario, Canada. We offer VIP Balloon Rides, Corporate Balloon Advertising, Balloon Flight Training, Balloon Maintenance, and Special Shape Hot Air Balloons.
Experience
The people behind Ottawa Hot Air are veterans of the sport of ballooning and together have over 3000 hours and over 75 years of combined hot air balloon piloting experience - all over the world, as well as in the USA and right here in Canada.
WHAT MAKES US DIFFERENT?

We offer exclusive, private hot air balloon rides
in Ottawa and Eastern Ontario
While the competition puts you in a large basket with 12-16+ strangers, we offer you a personal and private hot air balloon experience. Hot air ballooning is such a beautiful and spectacular experience, that it is best shared in a private flight - with the closest people in your life.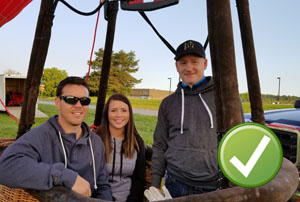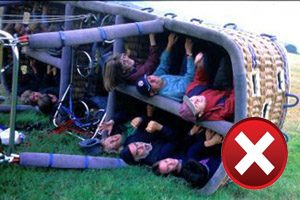 WHY CHOOSE OTTAWA HOT AIR?
Mostly, because we only offer exclusive, private hot air balloon rides but also because we are the operator with the most corporate ballooning experience in Canada.
Also, we are real. We own and operate our own fleet of balloons, right here in Ottawa, Ontario, Canada. Our pilots are Canadian, and live right here. We are not a booking agent, or a discount-rate hoax (hint: read their fine print).
NEED MORE REASONS?
The following are really important too: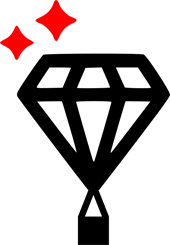 NEW, MODERN EQUIPMENT
We only operate top-of-the-line, new and modern hot air balloon equipment, and our balloons are equiped to the highest levels of safety including multiple levels of redundancy built into all systems.
100% SAFETY RECORD
Safety is our number 1 priority. We have extensive experience flying hot air balloons in the Ottawa and eastern Ontario region (as well as many other places in the world), and our passion for hot air ballooning makes us the perfect choice to take your balloon adventure to great heights.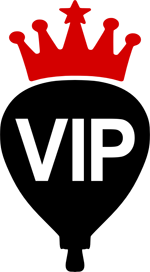 EXCLUSIVE, PRIVATE AND PERSONAL
Our hot air balloons only take 2, 3 or 4 passengers at a time, which makes your hot air balloon ride adventure more fun and more personal than you could have ever expected.
ON PARLE FRANÇAIS
All of our pilots are fully bilingual. We fluently speak native French and English.
One of our crew chiefs also speaks native Korean.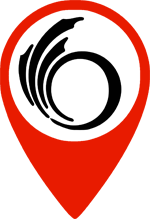 WE ARE LOCAL
We live and work right here in Ottawa. We own and operate our own balloons, and we are committed to this great city.
WE FLY 3 SEASONS
We fly three out of the four seasons. Summer and Autumn on select weekday evenings and weekends and sometimes even in Winter. Snow melt and wet fields prevent us from flying in the early winter and early spring.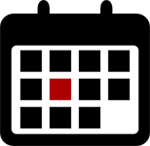 GUARANTEE
We guarantee you will fly.
If the weather isn't safe for a balloon flight on the day you chose to fly with us, you will be able to reschedule for another available day that is convenient for you.
We also limit our bookings to a manageable level, by proactively limiting/stopping bookings when our flight calendar fills up.
OTTAWA HOT AIR TEAM
Safety is our number 1 priority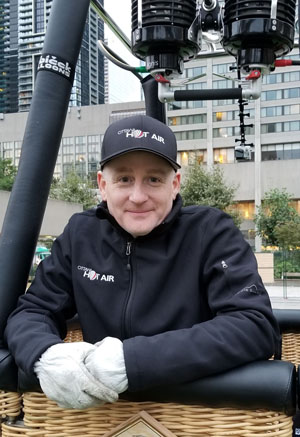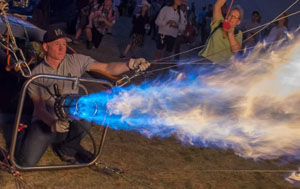 Alain Bard - Pilot
Alain has been an avid flying enthusiast his entire life.
As a young boy, he built and flew dozens of his model aircraft creations.
As a certified skydiver, Alain has jumped almost 1,000 times from various types of aircraft, helicopters and hot air balloons, and is a certified skydiving instructor and parachute rigger.  In 2012, he achieved the Canadian record for the largest formation in freefall (102 parachutists).
Alain is a paraglider pilot, and is a Transport Canada certified pilot in powered paragliders and hot air balloons. He is also a hot air balloon flight instructor and a Transport Canada certified Aircraft Maintenance Engineer (AME) for balloons.
Since 2009, Alain's main passion has been piloting Hot Air Balloons. He is one of the rare people in the world to have constructed his own hot air balloons and baskets from scratch. He manufactures these balloons under the Bard Balloons moniker. Five of these balloons are "Special Shape" hot air balloons in the shape of an Alien Rocket Ship, a Christmas Deer, a Polar Bear, a Tiger and a Robot.
Alain has flown balloons in some far-away places in the world, a total of 13 countries: Czech Republic, Laos, Malaysia, Mexico, New Zealand, Philippines, Qatar, South Korea, Taiwan, Thailand, United Kingdom as well as locally at many of the hot air balloon festival in Canada and the USA.
Alain is the Ontario sales representative for Kubicek Balloons, the largest balloon manufacturers in the world.
Since 2012, Alain has been the President of the National Capital Balloon Club where, along with other club members, he has helped create several other balloons from scratch. As President, he helps promote the sport in the National Capital region and also acts as liaison to Transport Canada.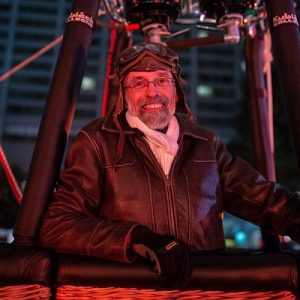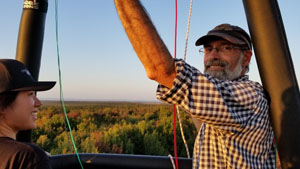 Jean Drouin - Pilot
Jean has been involved in ballooning for over 25 years when his wife initially registered them both as volunteer crew for the Gatineau Hot Air Balloon Festival.  Being bilingual he was asked to help the festival's balloon committee so during those early years he was: Crew Director , Launch Director, Flight Security Officer and Assistant Balloonmeister.
Since 2003, Jean has flown hot air balloons all over Canada and the USA, but his favorite place to fly is in Eastern Ontario.
His biggest accomplishment and best balloon experiences is helping other pilots build special shape balloons and flying the first flights on these giant works of art.
Ground Crew
Without our Ground Crew, we would never be able to fly. Here are a few of them:
HOT AIR BALLOON FLEET
A few of our many balloons. We own and operate more than 30 balloons.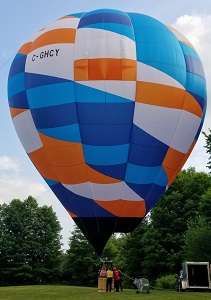 Pixel Swirl
Balloon Name: Pixel Swirl
Make: Kubicek BB22E
Size: AX-7, 77,000 cu ft.
Number of Passengers: Pilot + 2
A brand new, state-of-the-art balloon system featuring a brand new envelope made of lightweight fabric, as well as a brand new basket, burner and fuel cylinders.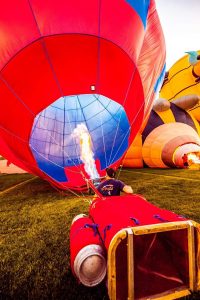 Light Bright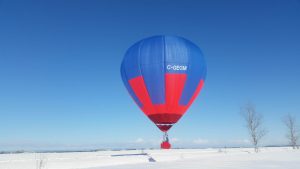 Balloon Name: Light Bright
Make: Bard
Size: AX-5, 42,000 cu ft.
Number of Passengers: Pilot only
Special Features: Glass-bottom basket
Used for static displays and tethers for show.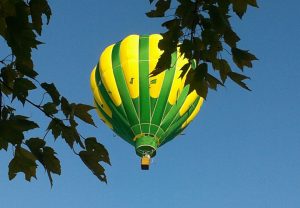 Emerald Meadows
Balloon Name: Emerald Meadows
Make: Aerostar
Size: AX-7, 77,000 cu ft.
Number of Passengers: Pilot + 2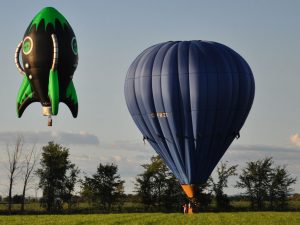 Blue Twilight
Balloon Name: Blue Twilight
Make: Aerostar
Size: AX-8, 105,000 cu ft.
Number of Passengers: Pilot + 4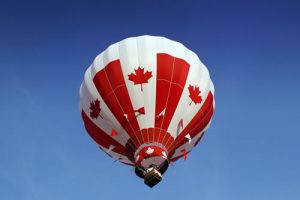 Patriotic, Eh!
Balloon Name: Patriotic, Eh!
Make: Aerostar
Size: AX-8, 105,000 cu ft.
Number of Passengers: Pilot + up to 4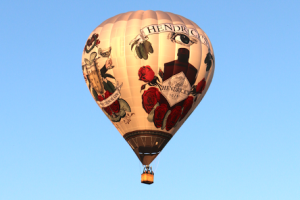 Hendrick's Gin
Balloon Name: Hendrick's Gin
Make: Kubicek BB30Z
Size: AX-8, 106,000 cu ft.
Number of Passengers: Pilot + up to 4
This Balloon is not available for paid passenger flights